For years, the 8th grade students of Marin Waldorf School were given beautifully illuminated diplomas at their graduation. The calligrapher that had been doing this as a passion project decided it was time for them to step aside. I was absolutely honored to be recommended to take on the diplomas for the 8th graders of Marin Waldorf School. Originally, I was to make the skeletal diplomas and teach each parent to paint in the decorations for their child.
However, due to the Bay Area's covid-19 shelter-in-place orders put in place starting in March and extending past graduation, that was no longer possible. The parent-coordinator and I came up with a new plan, where I would do it all. But instead of painting each individually, I'd print the diplomas in full color. Then as had been done in the past, I would calligraph each graduate's name & gild the diplomas with real gold. I have documented my process here to give a better idea of the steps involved in custom projects.
Inspiration to sketch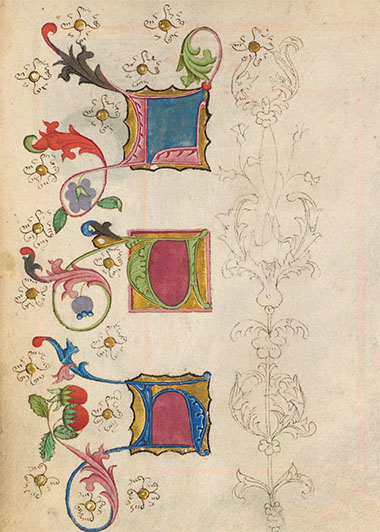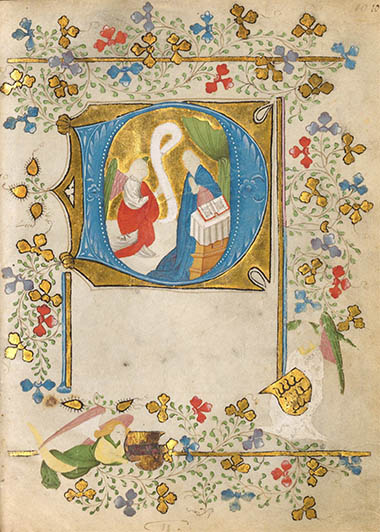 With each project I work on, I want it to be grounded in history, but not stuck in the past. For this project, a lot of inspiration came from Stephan Schriber's sketchbook—*Spätgotisches Musterbuch des Stephan Schriber*. A simplified design and modern colors bring the illumination work into the 21st century.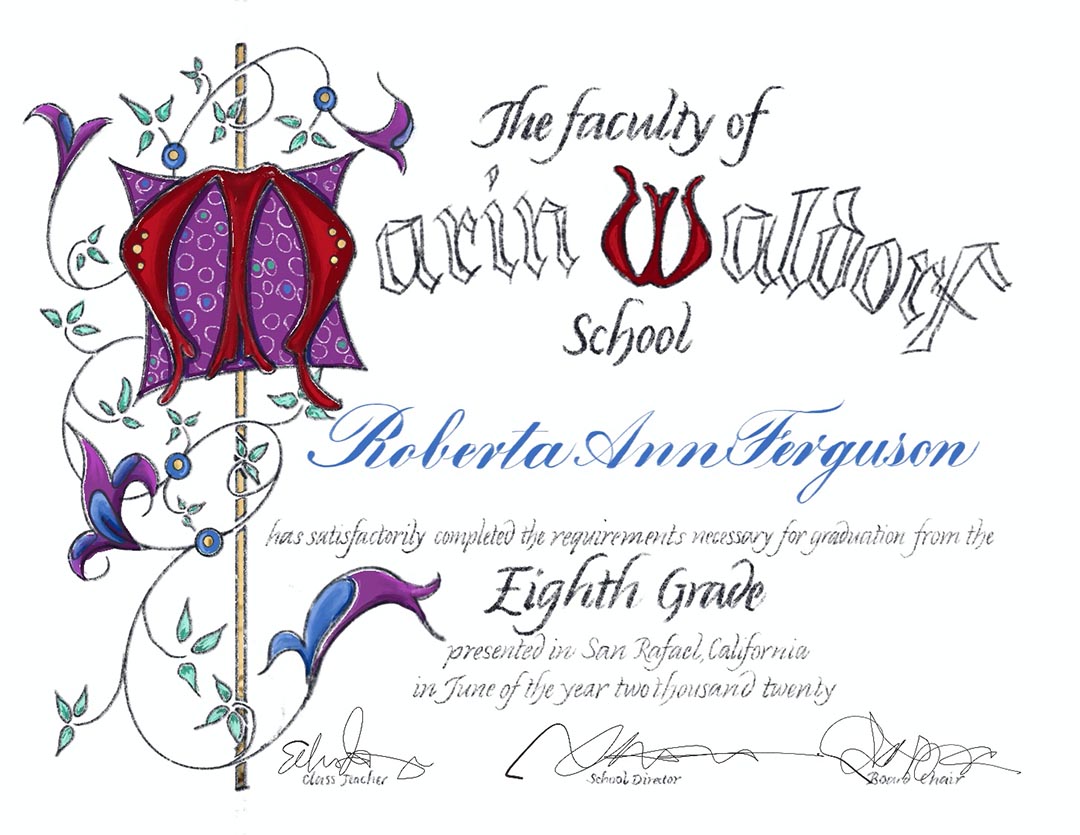 Pre-digitizing: Outline, Lettering, & Color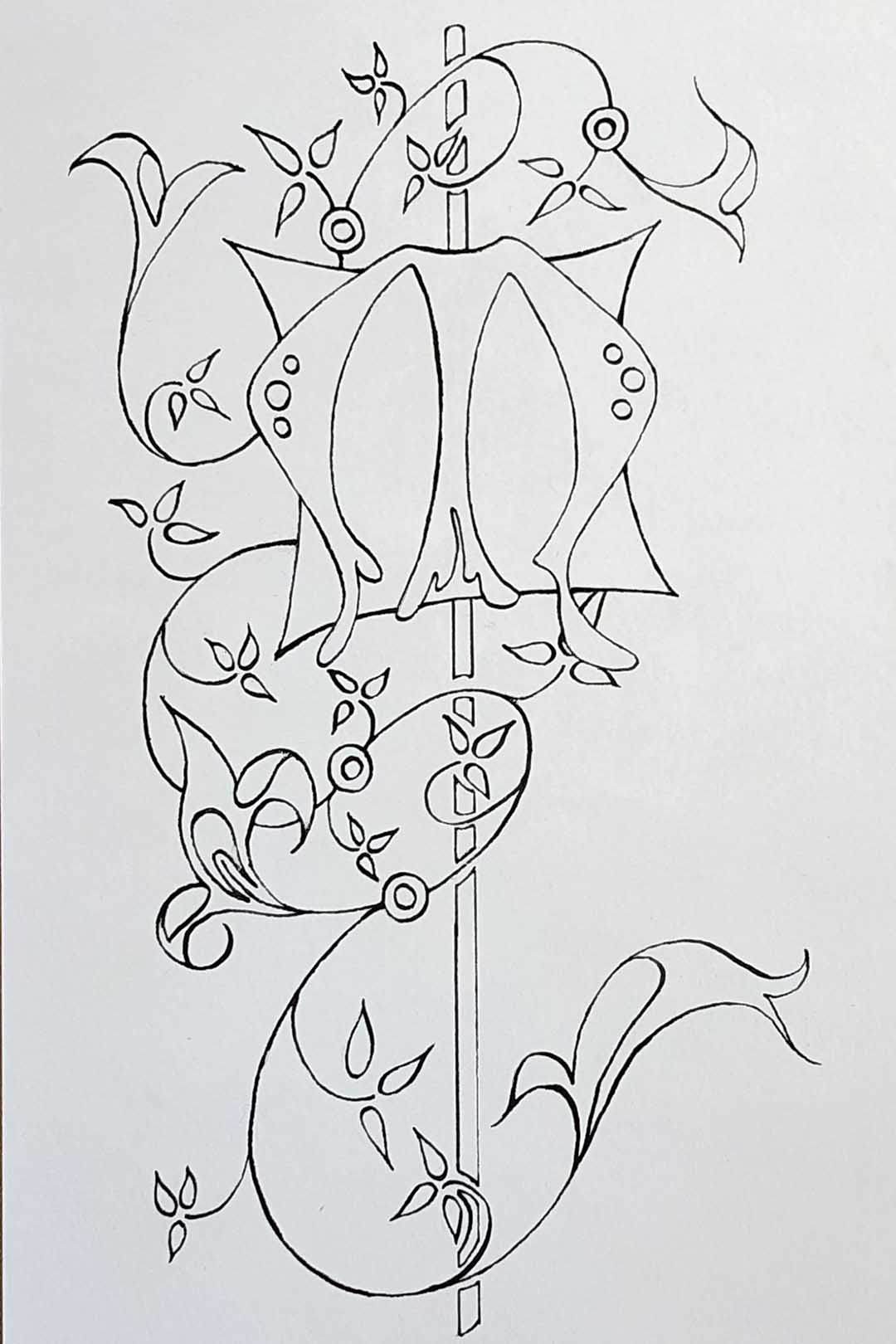 Before creating a press-ready file, I create all the original designs by hand. This leaves the subtle variations in color and texture that makes handmade work so wonderful. However, because I will be digitizing the diplomas, I can make each part individually to be assembled in photoshop. Not only does this gives me greater control on the exact shape and spacing of each letter, I can also re-do each part until its right.
Digitizing
While digitally cutting and pasting the diplomas together, but I take this opportunity to color correct each element. Digitizing work always takes time. It is such detail-orientated work.
Printing
Once I think everything is ready to go to press, I make sure to send a proof to the client. It's not just comforting for the client to have one last update on the progress; this is the last chance to catch any mistakes. And in this case, the parent-coordinator discovered I had forgotten two words! It's embarrassing, but a reality that mistakes happen.
Handwork: Lettering & Gilding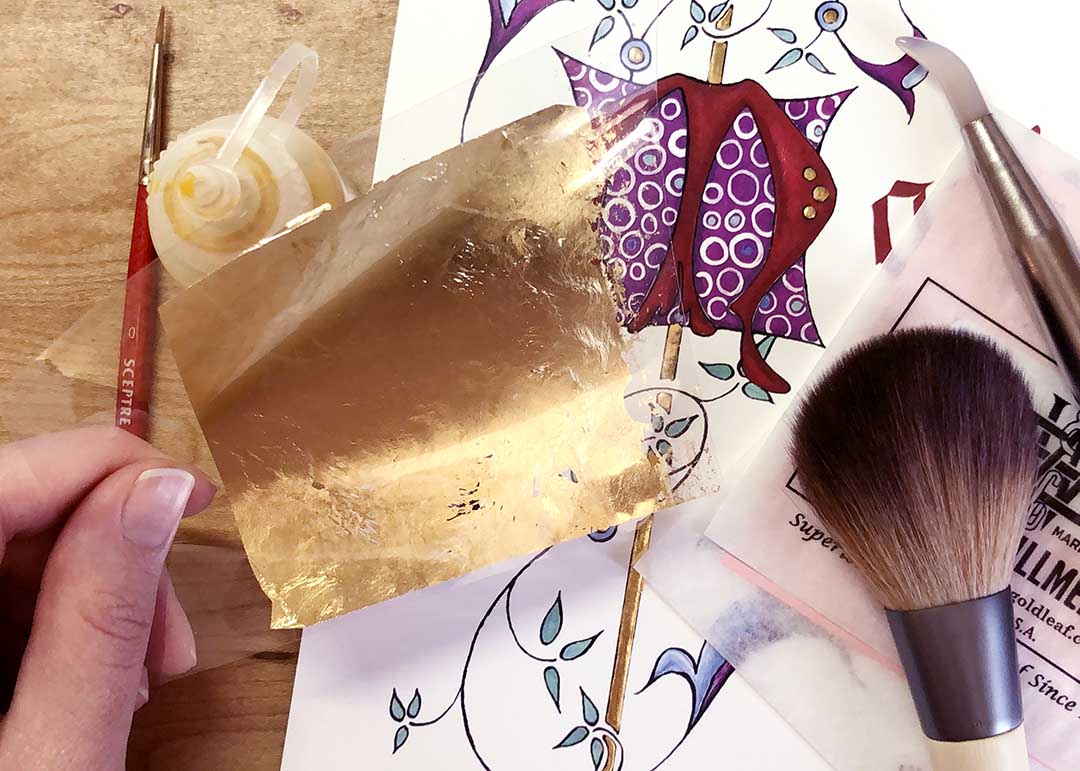 Once the diplomas are back from the printers, it's time to make each diploma truly custom—with calligraphy and gilding. Because I kept the gouache blue I had mixed to paint the filigree, the custom names match the printed decorations perfectly! After making sure each name is spelled properly, I fill in each blank shape in the filigree with gilding size (a.k.a. glue) and then press gold on top of it.
With a little spray of fixative to make sure the names last a lifetime, the diplomas are done and ready to be signed by the administrators before being handed out to the graduates. The students may have had a difficult ending to their 8th grade year, but I hope these special diplomas help them feel celebrated and accomplished!