In 2017, Mahak approached me with this lovely passage she had written and wanted me to calligraph it for her. It got bumped off my portfolio for more current pieces, but I thought I would just drop it here in the blog. Seeing the process being making pieces is always interesting.
---
Mahak sent me a beautiful passage she had written and wanted to make into a calligraphic art piece for her wall. She loved the idea of white letters on black paper with lots of flourishes.
These words needed a very cohesive structure to tie the first statement with the questions that follow. To achieve this, I kept the script style the same and varied the word size minimally. Flourishes have a tendency to overwhelm and often distract for the message. Knowing this, I carefully planed them out so the would lead the eyes to connect the phrases and add to the cohesion instead of separating the ideas.
One of my mentors recently said that the hardest part of calligraphy is not making the letterforms, but making the decisions about how to make them. With careful planning those decisions don't need to be left to chance.




After deciding on my goals for this piece, I wrote out the quote in Engrosser's script. I cut the phrases out and decided on a layout.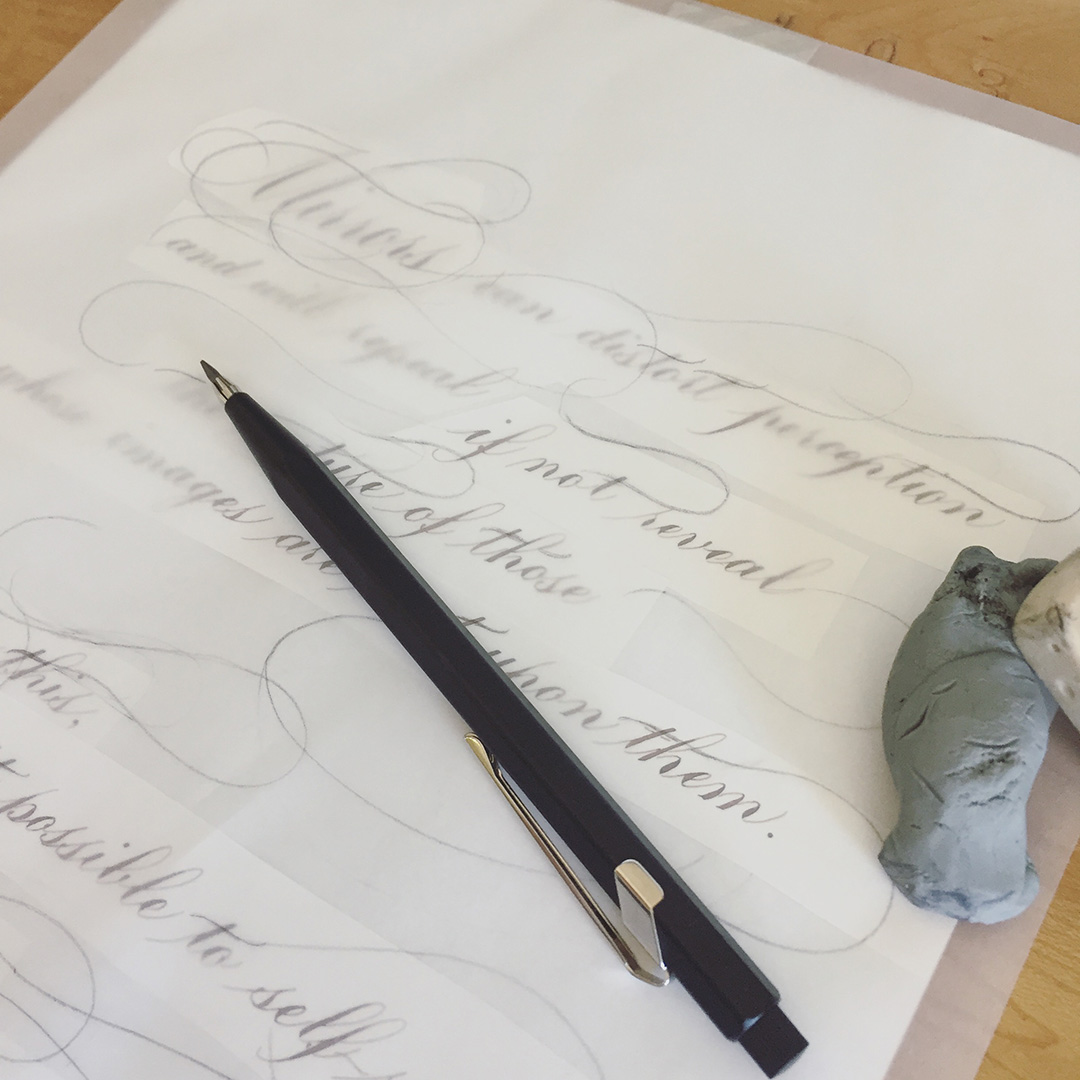 After gluing down the phrases, I overlaid them with tracing paper so I could carefully plan out where the flourishes would go.
With all the decisions made, I did another rough draft so I could measure each line to make sure they aligned where I wanted them in the final version.
---
Looking for something similar?
Visit my Etsy shop to have your favorite words calligraphed as a unique keepsake.
Katie's work has such a soft, elegant flow to it that's awe-inspiring which is why I beseeched her to make a custom quote of mine which I couldn't been happier with...the artistry enunciates much wisdom & experience! For a special quote/note to be sent to a loved one, this indeed is the right stop! Thank you so much again. A returning customer for sure 💕
—Mahak
Related Articles